Explore the Best of Vineyards with Sidecar Wine Tours
Are you a wine enthusiast looking to explore the best vineyards near you? Do you want to take your wine-tasting experience to the next level and make it unforgettable? Look no further than Sidecar Tours – the premier guided vineyard tour company that offers unique and exciting tours on a sidecar!
Sidecar Tours: Comprehensive Wine-Tasting Experience
At Sidecar Tours, we recognize that a vineyard visit entails more than simply wine tasting. We understand the importance of exploring the history, culture, and natural beauty of the region where the wine is produced. Therefore, we have meticulously crafted our tours to offer a comprehensive experience that integrates wine tasting with sightseeing, adventure, and fun.
Vineyards to Discover with Sidecar Tours
Our tours cover some of the most beautiful vineyards in the area, each with its unique charm and character. Whether you're a seasoned wine connoisseur or a first-time taster, our tours are tailored to meet your needs and preferences.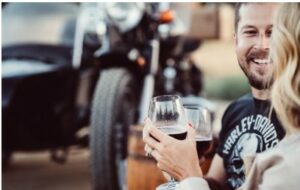 Here are some of the vineyards that you can explore with Sidecar Tours:
Nappa valley vineyard: this vineyard is known for its Red Wine and stunning views of the Nappa valley. During our tour, you'll get a chance to taste some of their finest wines, learn about their winemaking process, and soak in the scenic beauty of the region.
Temecula Vineyards: This vineyard is famous for its Wines and picturesque vineyards that stretch as far as the eye can see. Our tour will take you through the winding roads of the vineyard, where you'll get a chance to sample their wines, learn about their history and tradition, and enjoy the serenity of the countryside.
San Diego Vineyard: Nestled in the heart of San Diego, this vineyard is renowned for its White wine and rustic charm. Our tour will take you through the vineyards and into the winery, where you'll get a chance to learn about their winemaking techniques, taste their wines, and enjoy the cozy ambiance of the cellar.
Other Vineyard tours we offer include:
At Sidecar Tours, we believe that the journey is as important as the destination. That's why we've chosen to offer tours on a sidecar, a unique and exhilarating way to explore the vineyards. Our vintage sidecars are meticulously designed to prioritize both your comfort and safety. As you embark on our tours, you can relish the exhilarating sensation of the wind in your hair and the warm sun on your face.
Knowledgeable Guides and Immersive Experiences:
Our tours are led by knowledgeable and experienced guides who are passionate about wine, history, and adventure. They'll take you on a journey of discovery, sharing their knowledge and insights about the region, the vineyards, and the wines. You'll also get a chance to meet the winemakers, learn about their craft, and ask any questions you may have.
In conclusion, if you're looking to explore the best vineyards near you and have a truly memorable experience, look no further than Sidecar Tours. We have designed our guided vineyard tours on a sidecar to provide you with a one-of-a-kind and all-encompassing experience. These tours seamlessly blend wine tasting with adventure, sightseeing, and fun, ensuring that you have a memorable time. Book your tour today and get ready for an unforgettable journey!